The Russia-Ukraine war underscores the prolonged and expensive nature of modern warfare. The invasion had an immediate impact on military spending decisions, with nations worldwide continuing to bolster military expenditure. This is particularly evident in Eastern European nations neighboring Ukraine and Belarus. For instance, Romania's Ministry of National Defense is seeking F-35 Lightning II fighter jets worth USD 6.5 billion. 1Such moves are in response to ongoing aggressive activities in the region, like the sustained Belarusian military exercises near the borders of NATO members, Poland and Lithuania. 2Additionally, Poland has declared a purchase of hundreds of Spike anti-tank missiles from Rafael Advanced Defense Systems. 3The heightened sense of urgency in defense procurements reflects the region's need for improved security and preparedness.
The MarketVectorTM Global Defense Industry Index (MVDEF) tracks the performance of companies that are involved in serving national defense industries. The index has exhibited strong performance YTD, having appreciated over 23% as of August 18, 2023. The index distinguishes itself by exclusively targeting pure-play defense firms, without any emphasis on civil and commercial aviation, recreational firearms, or similar non-military-related fields.
MarketVectorTM Global Defense Industry Index
8/21/2022-8/21/2023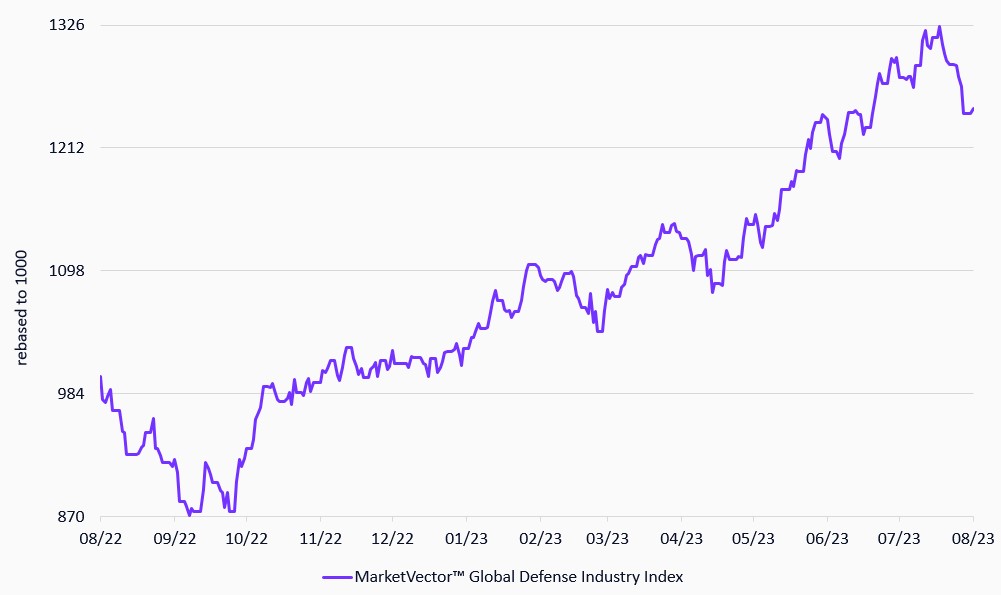 Source: MarketVector IndexesTM. Data as of August 21, 2023.
Source1: Defense News. (August 10, 2023). Romania eyes 32 F-35s under $6.5 billion deal. https://www.defensenews.com/global/europe/2023/08/10/romania-eyes-32-f-35s-under-65-billion-deal/. Accessed August 18, 2023.
Source2: Defense News. (August 7, 2023). Belarus begins military drills near the border with Poland and Lithuania. https://www.defensenews.com/training-sim/2023/08/07/belarus-begins-military-drills-near-border-with-poland-and-lithuania/. Accessed August 18, 2023.
Source3: Defense News. (August 7, 2023). Poland to make hundreds of Israeli-designed Spike antitank missiles. https://www.defensenews.com/global/europe/2023/08/07/poland-to-make-hundreds-of-israeli-designed-spike-antitank-missiles/. Accessed August 18, 2023.
For more information on our family of indexes, visit www.marketvector.com. 
About the Author:
Jesse Nacht is the Index Research Associate at MarketVector IndexesTM ("MarketVector"). His core responsibilities include assisting in index development and design. Having come from a trading background, Jesse holds a Series 57 Securities Trader License. He has a Master of Arts in International Economics and Finance from the International Business School at Brandeis University. Prior to this, he also received a Bachelor of Arts in Economics from the same university.
For informational and advertising purposes only. The views and opinions expressed are those of the authors but not necessarily those of MarketVector Indexes GmbH. Opinions are current as of the publication date and are subject to change with market conditions. Certain statements contained herein may constitute projections, forecasts, and other forward-looking statements, that do not reflect actual results. It is not possible to invest directly in an index. Exposure to an asset class represented by an index is available through investable instruments based on that index. MarketVector Indexes GmbH does not sponsor, endorse, sell, promote, or manage any investment fund or other investment vehicle that is offered by third parties and that seeks to provide an investment return based on the performance of any index. The inclusion of a security within an index is not a recommendation by MarketVector Indexes GmbH to buy, sell, or hold such security, nor is it considered to be investment advice.