The Big Data and AI industry is more than a trend; it's here to stay, steadily growing in its impact, relevance, and predictive capabilities. Furthermore, the methods to capture and utilize this data are advancing, solidifying its comparison to 'digital oil'. Not only is processing power consistently increasing exponentially, but data storage costs are simultaneously shrinking- driving customer expectations and competitive dynamics.
As AI progresses and transforms various sectors, the reasons stakeholders invest money into these technologies shift. Broadly, their investments target two main objectives: offensive(proactive) and defensive(reactive) spending. Proactive investments focus on innovation, transformation, and securing a competitive advantage, whereas reactive spending aims at cutting operational costs and ensuring regulatory compliance. Recent trends over the last four years indicate a tilt towards defensive initiatives, suggesting a potential maturation of an industry that was only recently brought into the spotlight.
The BlueStar® Big Data & AI Index (BDAI) tracks pure-play machine learning, artificial intelligence, database management, and other data-related companies. The index is up 48.69% year-to-date (data as of 10/24/23) and 175.7% since inception on July 4, 2017.
BlueStar® Big Data & AI Index
10/30/2022-10/30/2023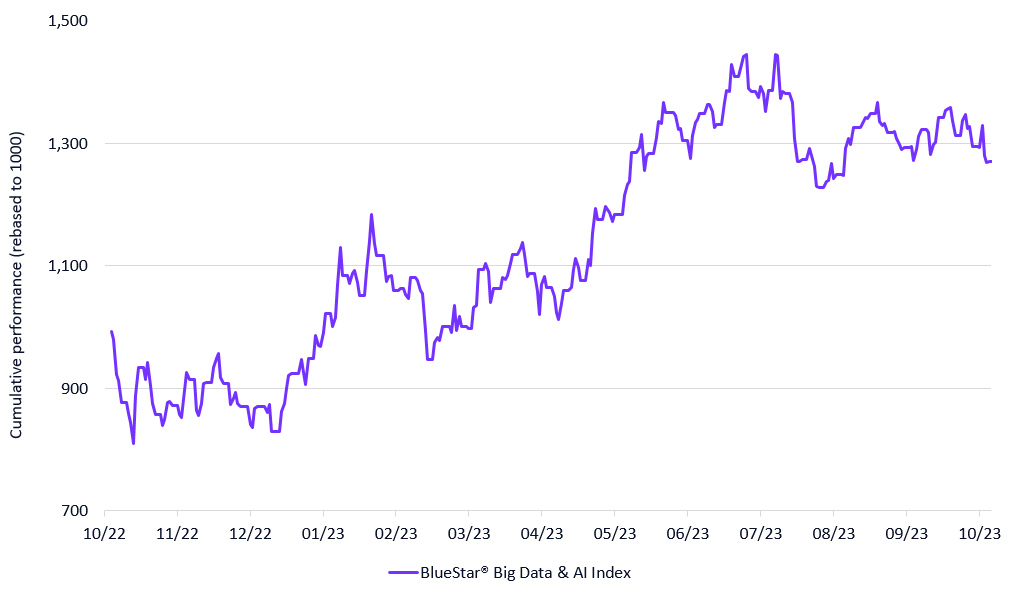 Source: MarketVector. Data as of October 30, 2023.
This topic is explored in some more detail in a whitepaper published in our MVIS Insights here.
For more information on our family of indexes, visit www.marketvector.com. 
About the Author:
Jesse Nacht is the Index Research Associate at MarketVector IndexesTM ("MarketVector"). His core responsibilities include assisting in index development and design. Having come from a trading background, Jesse holds a Series 57 Securities Trader License. He has a Master of Arts in International Economics and Finance from the International Business School at Brandeis University. Prior to this, he also received a Bachelor of Arts in Economics from the same university.
For informational and advertising purposes only. The views and opinions expressed are those of the authors but not necessarily those of MarketVector Indexes GmbH. Opinions are current as of the publication date and are subject to change with market conditions. Certain statements contained herein may constitute projections, forecasts, and other forward-looking statements, that do not reflect actual results. It is not possible to invest directly in an index. Exposure to an asset class represented by an index is available through investable instruments based on that index. MarketVector Indexes GmbH does not sponsor, endorse, sell, promote, or manage any investment fund or other investment vehicle that is offered by third parties and that seeks to provide an investment return based on the performance of any index. The inclusion of a security within an index is not a recommendation by MarketVector Indexes GmbH to buy, sell, or hold such security, nor is it considered to be investment advice.