We recently had the opportunity to travel across the continent of Australia. Given the distance we intended to travel, we made sure to maximize the trip by visiting as many operations and meeting with as many companies as we could fit in. 
We met with the management teams of eight companies and toured six major gold mining operations, including open pit and underground mines. We could not help but be impressed with the size and scale of some operations and the richness in grade of others. Across the board, we noticed a focus on the latest technology, mining techniques and efficiencies, as well as a laser-like focus on ESG-related subjects.
In our view, Australia remains a leading mining jurisdiction, both in terms of potential and investability. Key issues that we discussed with management teams included: the focus on de-carbonizing energy usage, skilled labor shortages and the role of technology in mining to reduce costs, improve efficiency, and make mining safer for workers.
MVIS® Global Junior Gold Miners Index
9/18/2022-9/18/2023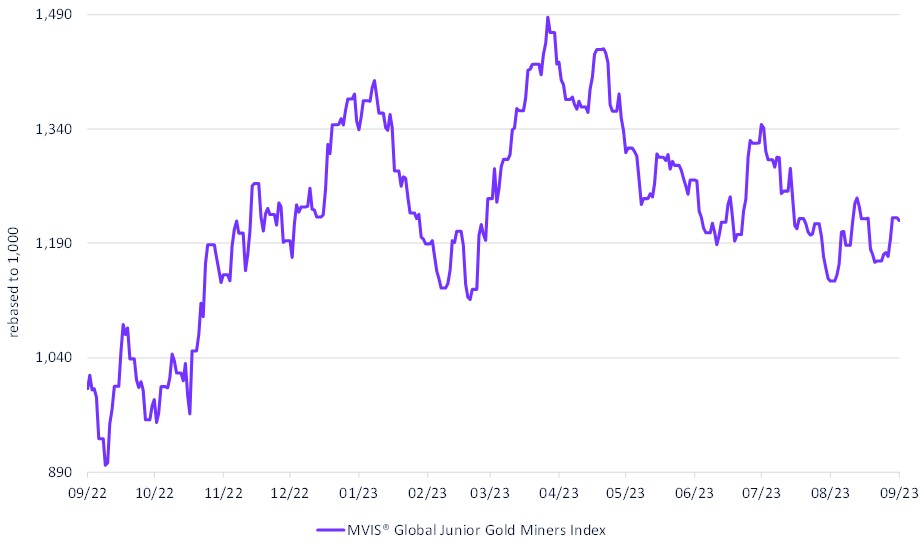 Source: MarketVector IndexesTM. All values are rebased to 1,000. Data as of September 18, 2023.
About the Author:
Ima Casanova joined VanEck in 2011. Before VanEck, Ima was Managing Director and Senior Equity Research Analyst at McNicoll Lewis & Vlak and established the firm's metals and mining research department. Previously, she was Equity Research Analyst at Barnard Jacobs Mellet USA and BMO Capital Markets and held positions as Production Technologist, Offshore Wellsite Supervisor, and Petroleum Engineer for Shell Exploration and Production. Ima has both an MS and a BS (magna cum laude) in Mechanical Engineering from Case Western Reserve University.
For informational and advertising purposes only. The views and opinions expressed are those of the authors but not necessarily those of MarketVector Indexes GmbH. Opinions are current as of the publication date and are subject to change with market conditions. Certain statements herein may constitute projections, forecasts, and other forward-looking statements that do not reflect actual results. It is not possible to invest directly in an index. Exposure to an asset class represented by an index is available through investable instruments based on that index. MarketVector Indexes GmbH does not sponsor, endorse, sell, promote, or manage any investment fund or other investment vehicle that is offered by third parties and that seeks to provide an investment return based on the performance of any index. Including security within an index is not a recommendation by MarketVector Indexes GmbH to buy, sell, or hold such security, nor is it considered investment advice.